Teaching Art and Race: Bridging Gaps in the Global Survey Course
Designed to explore art internationally from pre-history through the present, the current global survey course is often problematic. Many popular textbooks such as Stokstad and Gardner analyze art in the Western world extensively and chronologically while reviewing thousands of years of 'non-Western' art history geographically in single chapters. This imbalance, along with the great majority of artists being white males, avoids addressing important issues including gender and race. In 2014, the murders of Eric Garner and Michael Brown brought to light very similar concerns in our society. These events, which sparked mass protest and violence across the country, provoked us to engage our art history survey students about the relationship of art and race, and how that interaction brings to light the inherent inequalities in our own field.
In place of our final course of the semester on postwar art, we decided to collaborate on a three-part course exploring the relationship of race and art in contemporary performance, drawing, sculpture, and installation. We chose the following themes for each one hour and fifteen minute discussion-based section: Art and the Body, Violence and Protest, and Space and Race. We jointly selected works that questioned the current narrative of art history and would encourage students to integrate their own life experiences with the course topic. At the end of each section, students responded to a related question in an in-class essay intended to provoke further thought.
Our lecture on Art and the Body discussed figural representations of Self and Other. Introducing this concept with Coco Fusco and Guillermo Gómez Peña's performance Couple in the Cage (1992), we discussed iconic works of art such as Picasso's Demoiselles d'Avignon in relation to exhibitions of human bodies at turn of the century World Fairs. During the remaining time, we examined artists who combat historical and contemporary religious and racial inequalities through representations of the body, including Firelei Baez, Kara Walker, Kehinde Wiley, and Shirin Neshat. Their works were paralleled with popular imagery and important historical works and movements, such as images of the 'mammy', Ancient Egyptian and Greek art, Orientalism, the Harlem Renaissance, and Islamic manuscripts dating from the 11th century. Students were very engaged in discussion, negotiating the empowerment versus the exoticization of the racialized body. The class considered heavily how these works transcend historical barriers that have excluded racial and religious minorities.
Incorporating artworks that intervened in space, our second lecture focused on works depicting violence and protest interspersed with actual documentation of current protests against police violence and racism. This lecture aimed in large part to question hegemonic systems of racial and gender classifications, as well as oppose institutional hierarchies established by important artistic and governmental bodies. We introduced the lecture with Picasso's Guernica and Goya's The Third of May 1808, in which both artists use painting to counter war and violence caused by ideological differences. Our second section discussed the 1970s Puerto Rican civil rights and anti-war movements, during which artists protested against inequalities in museum representations (in front of Guernica itself!), and documentation from the Vietnam War. We examined photography, posters, and street art as vehicles for protest through their possibilities for broader distribution and access. We concluded the lectured with an interactive performance by Tania Bruguera that explores the experience of government oppression.
Our third lecture looked at spatial experience in architecture, muralism, and photography. Alongside documents of protest for social justice, the selected works elicited larger questions about defining, appropriating, and racializing space. This lecture specifically explored how art has responded and objected to spatial divisions and the constructed relationship of race and space. We discussed the Mexican and Chicano mural movements, and graffiti art representing Gardner and Brown. While examining the potential of accessible art, students could share their thoughts about public art projects in their own neighborhoods that were testaments to a particular story. The discussion concluded with a look at Project Row Houses in Houston, Texas, and example of how artists revitalized a historically African American community through art and education.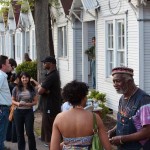 In addition to introducing contemporary artistic practices to our classes, these lectures outlined the importance and relevance of accessible art and spatial experience in the students' everyday lives. As teachers and art historians, we are in a unique position to respond to the current state of the field and explore pervasive inequalities in the classroom. Leading these discussions allowed us to bring to light issues raised throughout the semester about the inadequacies of a global survey course, but it was also a way to integrate larger conversations about the repression and treatment of minority groups in the United States, a theme gaining urgency in light of recent events. Teaching Race and Art was, in a sense, our way to protest these injustices.