Fred Wilson in the Classroom
[Editor's note: this week's post provides a few ideas on how to incorporate the work of a specific artist into the overall program of a class. This method expands upon the traditional ways in which art and artists are shared with students.]
[1] Institutional Critique: Following Fred Wilson and Mark Dion                                                                                      Maura Coughlin
Although I was in art history departments for my first eight years of teaching, I have been a faculty member of the Department of English and Cultural Studies at Bryant University since 2007. This is a very vibrant, interdisciplinary department that has shaped my ways of teaching and has supported my own interdisciplinary scholarship. The course that this assignment comes from, Introduction to Visual Culture, has evolved over that time, from a lecture-based survey to a class that is mostly discussion-based and that has projects and short papers instead of tests. For several weeks, we have been talking about the visual culture of gender and surveillance, racism, taxonomies and classifications in natural history, resistance and activism. This project has several goals: to get students off campus and into local collections, to engage critically with the literature on museums and display, and to think creatively in response to Fred Wilson and Mark Dion's practices of institutional critique.
Mark Dion, Landfill, 1999–2000.
Thinking about museum spaces, collecting, taxonomies and visual activism, we will be visiting two very different collections (The Art Museum and the Nature Lab) on the RISD campus in Providence to think about these spaces of display and representation and the ways in which they shape and present knowledge. Both of these spaces serve the art and design community at RISD and also welcome visitors from the general public. Understanding their functions helps us to contextualize these collections. The ways in which they frame or contextualize images are not value neutral; none of the curatorial choices that have been made are inevitable or transparent. By comparing the works of Wilson and Dion that engage in Institutional Critique, we will work to build visual analyses of these displays. Many of the themes that we have explored this semester come into play into the contemporary debate over museums' display of visual culture. You are encouraged to use ideas from previous weeks' readings in your discussion.
FIRST: read these assigned pieces very carefully before you visit the museum:
Michelle Henning, "Object" from Museums, Media and Cultural Theory (Open University Press, 2005).
Andrew McClellan, "Collecting, Classification and Display" in The Art Museum from Boullée to Bilbao (University of California Press, 2008).
Walter Mignolo, "Museums in the Colonial Horizon of Modernity: Fred Wilson's Mining the Museum (1992)" from Globalization and Contemporary Art (Wiley-Blackwell, 2011).
Maurice Berger, "Viewing the Invisible: Fred Wilson's Allegories of Absence and Loss" from Fred Wilson: Objects and Installations (Center for Art and Visual Culture, UMBC, 2002).
Miwon Kwon, "Interview with Mark Dion"  from Mark Dion (Phaidon Press, 1997).
Ruth Erickson, Mark Dion: Misadventures of a 21st-Century Naturalist, selections (Yale University Press, 2017).
 And watch:
Fred Wilson "A Change of Heart" https://vimeo.com/11838838
Mark Dion working at the Frances Lehman Loeb Art Center https://youtu.be/WVKH-NSAQaU
The ICA Boston:  https://youtu.be/JBYfv0Fb7IA
And at Vassar:  https://youtu.be/C-mbyuoT7A0
When we visit RISD- Bring a notebook and pencils. You must check your coat and backpack.
TAKE NOTES WHILE THERE.
What kind of narrative or story do the displays at RISD's spaces tell? If you were asked to intervenein the histories that the museum or nature lab presents, as Wilson or Dion did in their projects, what would you add, subtract or alter and why? What "decolonizing perspective" (Mignolo) can you apply? How might you remix the two collections if you were a curator? At the art museum, choose one type of display (one room, or one cluster of artwork) for thinking about how, as Michelle Henning notes, "museums turn things into objects." At the Nature Lab, find a display that addresses what Dion calls "problems of taxonomy." How can you compare these?
Take a lot of photographs and reflect on what you were drawn to. How might you take these displays and remix them to tell a different story or to "mine" the university collections in a new way?What systems of classification would you use?  How would your intervention speak differently or speak to a different audience?
Your essay(minimum 1000 words) will be a synthesis of at least three of the readings above (properly cited)  with YOUR creative interpretation of this assignment.
Please note:  Citation of a Painting, Sculpture, or Photograph
In a caption line under the image, include the artist's name. Give the title of the artwork in italics. Provide the date of composition. If the date of composition is unknown, place the abbreviation n.d. in place of the date. Finally, provide the name of the institution that houses the artwork followed by the location of the institution. Do not put the image in your works cited list: that is for TEXTS.
Source:http://owl.english.purdue.edu/owl/resource/747/09/
How to cite information in a Museum label/plaque
In your text, paraphrase or quote and include "(wall text, RISD)."  In Works Cited: Museum name. Museum label for Artist, Title of Artwork. City, Date viewed.
Example: Rhode Island School of Design. Museum label for Edouard Manet, Repose. Providence, 15 April, 2019.
Include your photos in your document and upload to Blackboard. Possible directions you may take this for your final project:
Project One: Create a Dion-style Cabinet of Curiosities or a Fred Wilson style "mining" of Bryant's collection in the library.
Project Two: What kind of collection would you like to make at our university?
---
[2] Teaching with Fred Wilson's Mining the Museumin a Contemporary Art Course.                                            Erin L. McCutcheon
My semester-long Contemporary Art course is structured so that Fred Wilson's Mining the Museum(1992) intervention in the Maryland Historical Society fits into a unit devoted to "Memorials, Memory, and Trauma." Before coming to this material, we will have spent the past two weeks looking at memorials devoted to collective, national, and cultural traumas around the world (paying particular attention to the AIDS crisis, Vietnam War, Holocaust, and violence during periods of dictatorship in Latin American countries). Attention will have been on artists working outside of institutional spaces, while Wilson's work provides a necessary shift towards representing trauma and revealing hidden histories in the museum. A great way to transition between these topics is through Wilson's proposal for the monument, E Pluribus Unum(2007) in Indianapolis, which was ultimately rejected (you can learn more about the specifics of the project here).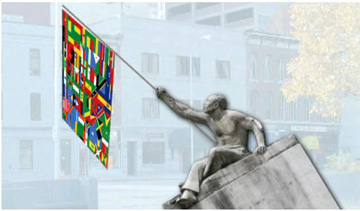 Prior to our discussion of Mining the Museum, I provide students with color images of the installation, which can be found here, and place them in three groups that correspond to the different colored rooms of the installation: red, blue, and green. Students must choose one object or image that corresponds to their designated color grouping and write a short visual analysis response to bring to our next class meeting.
In class, I split students into groups with an equal distribution of each color grouping (ideally six students per group – two red, two blue, two green). In these small groups, they discuss their object choices and analysis, and work together to brainstorm the potential meanings behind Wilson's choice of different colors for the rooms in the exhibition and how their objects connect to them and to each other as a whole. This process of working together to find meaning is useful in positioning the students in the place of the average visitor to the Maryland Historical Society who would also have to do this similar critical thinking to find meaning when inside the space. It also allows for us to spend time digging into the specifics of the installation in a way that isn't overwhelming and is student-driven as the object choices have been made by the students in advance. We then come back together as a class to discuss their approaches, and I assist in outlining more of the specifics of the exhibition as well as facilitate more focused visual analysis on Wilson's choices. A video of Wilson talking about the project and its implications can be found here.
In subsequent classes, we consider Wilson's practice in relation to other works that disrupt the museum as a space of colonial trauma and create more complex conversations surrounding cultural identities, such as James Luna's The Artifact Piece(1986) and Coco Fusco & Guillermo Gomez-Peña's The Couple in the Cage(1992–93). Combining this in-class discussion with a trip to the local museum works to potentially connect to the students own personal histories, as well as gives an understanding of whose histories "matter" to the place in which they live. Last year I was fortunate to have direct access to the wonderful Civil Rights Museum in Jackson, MS located next door to the Museum of Mississippi History that allowed us to consider the impetus for the creation of these museums, as well as the ways in which histories were presented in each space, to whom, and from what perspectives. Even without access to a comprehensive institution, students could brainstorm how they would imagine telling the histories of communities in the location they are living in now, or where they are originally from. How would they deal with the intersecting and sometimes compete narratives and perspectives stemming from communities based in that location? How have these narratives shifted over time? What objects would be important to tell these stories and how would they interact with one another? What would be the best way of presenting these objects to a broad audience? What stories do you think will be important to tell in the future?